Originally appeared on Health & Wellness
By Parveen Vahora, M.D.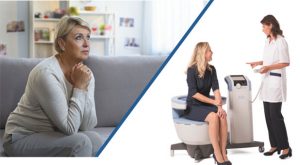 Two Breakthrough medical procedures can help you and your partner feel better about your relationship and experience what you once had in the past. If you struggle with incontinence issues or vulvovaginal atrophy, two in-office, safe and effective advancements are available to help you feel whole again.
VVA and Urinary Incontinence
Many women experience a shift in their bodies after childbirth, reproductive disorders, surgery, and aging. Have you ever felt that intercourse just wasn't pleasurable any longer? Maybe you are one of the millions of women that experience vulvovaginal atrophy (VVA).
When the regularity of a woman's menstrual cycle ceases, the estrogen receptors decrease along with estradiol in the uterine lining, disrupting the thickness and lubrication of the tissues. Estrogen increases gland secretion and blood flow to the urogenital tissues. When estrogen is limited or obsolete, it leads to vaginal dryness, pain, PH imbalance, and urinary changes such as overactive bladder and incontinence.
Due to the limited estrogen supply, the walls of the vagina start to thin out, causing dryness, burning, and inflammation. This can make intercourse very painful and can cause urinary disorders, interfere with daily activities, and completely disrupt your life due to the extreme pain and discomfort that it can cause.
Dr. Parveen Vahora explained, "MonaLisa Touch®, is a non-hormonal treatment, has no side effects, and only takes a few minutes to perform right in the convenience of my office, and it's helped countless women treat their vulvovaginal atrophy and associated symptoms and pain. Women can get their confidence and intimacy back. It also works well to strengthen the pelvic floor muscles, decreasing urinary incontinence and urgency."
MonaLisa Touch®
No medications, no cutting, no lengthy healing times: This innovative laser therapy is for VVA. It's quick, efficient, and can be safely performed in the comfort and privacy of Dr. Vahora's office. The laser does not hurt or cause any pain. You will only feel slight vibrating sensations from the machine, and the best part is that the entire procedure is accomplished in an outpatient office setting. Women no longer have symptoms of dryness, pain, itching, or irritation.
Weakened Pelvic Floor
Pelvic floor muscles are the layer of muscles that support the pelvic organs and span the bottom of the pelvis. Strong pelvic floor muscles give you control over your bladder and bowel. Weakened pelvic floor muscles mean your internal organs are not fully supported and you may have difficulty controlling the release of urine.
EMSELLA™
EMSELLA™ is the key to effectively eliminating or significantly reducing urinary incontinence. EMSELLA is a unique chair that patients can simply sit and relax in (fully clothed) for 20 to 30 minutes in the comfort of their gynecologist's office. It produces vibrations that cause the pelvic floor muscles to contract. One session is the equivalent of doing 11,000 Kegel exercises.
EMSELLA utilizes electromagnetic energy to deliver thousands of supramaximal pelvic floor muscle contractions in a single session. These contractions re-educate the muscles of incontinent patients.
EMSELLA produces high-frequency vibrations with thousands of contractions per session that tighten the pelvic floor muscles and the bladder sometimes as quickly as the first treatment. Most women will undergo just six sessions in a full three-week program to restore their pelvic muscle strength. The best part is, 75% of treated patients totally eliminated or decreased the use of hygienic pads, and 95% of treated patients have an improved quality of life.
EMSELLA is for both for men and women, and can also improve frequency and urgency of urination, as well as reduce day and night leakage. It also improves sexual function in men and women.
Give yourself and your partner the Gift of MonaLisa Touch® or Emsella.
Don't just live with your discomfort, get the relief and new beginning that you are worthy of. Call today to schedule an appointment and/or consultation at Info@ParveenVahoraMD.com or call (727) 376-1536.
New patients are welcome!
Schedule your consultation today. We also offer TeleHealth/Virtual consultations.
Parveen Vahora, M.D.
Our gynecologist office is small, intimate, and welcoming. Women under our care are treated with the utmost respect, which means we offer personalized care: educating on conditions and treatment options as well as preventative measures. Our focus is on sexual health, and we're proud to offer the MonaLisa Touch® for patients going through menopause as well as post-menopausal women, breast cancer survivors, and those suffering from pain during intercourse or intense dryness. We also offer genetic testing for breast, ovarian, and colon cancer. From birth control to robotic surgery, we've got you covered.
Our practice treats our patients as we would treat our own family, with the goal of keeping them healthy for many years to come, not just the short-term. We follow Enhanced Recovery After Surgery (ERAS®) protocols, which take a comprehensive look at all areas of the patient's journey through surgery and recovery, creating a well¬-coordinated, team¬-oriented approach to surgical care for better outcomes. Weaving this into our personalized care plans, we get patients back to their normal routines faster.
Contact us today to schedule an appointment at Info@ParveenVahoraMD.com or during office hours call (727) 376-1536 or text (813) 548 4412. To find out more, please visit ParveenVahoraMD.com.